The Best Beach Wedding Catering on North Stradbroke Island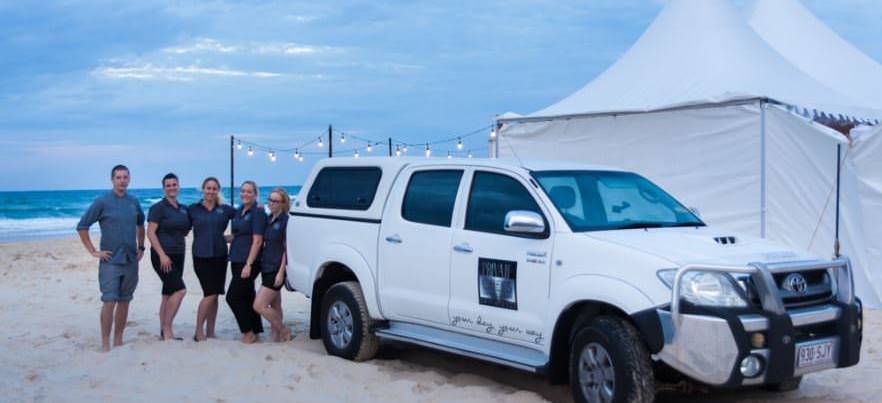 An island wedding on your doorstep!  Located just 30km southeast of Brisbane, North Stradbroke Island is a 45min ferry ride across the beautiful Moreton Bay from Toondah Harbour in Cleveland.   
With the beautiful and tropical Queensland climate, having a beach wedding on North Stradbroke Island brings together idyllic tranquil settings on some of Queensland's most beautiful sandy beaches.
Specialist Service Provider
Private Chefs of Brisbane catering is a specialist service provider for beach weddings on Stradbroke Island.   Witha wide range of beach wedding venues, we cater for intimate weddings with a small number of guests to elaborate weddings with large numbers of guests.  Our wedding menus can be created to blend with the atmosphere you are wanting for your wedding day. Read more to find out about our menu types:
Planning Your Wedding Catering on North Stradbroke Island
Come and meet with us or chat over the phone to plan your wedding catering requirements for your special day.  We will work with you to design a unique wedding menu that you want to choose for your guests.   Our wedding menus can be designed to suit any budget and to incorporate special dietary requirements such as vegetarian, began or gluten free. 
We Cook Onsite
With our modern fleet of catering vans equipped with refrigeration we take our fresh ingredients over to the island and prepare onsite.  All of our meats are cooked onsite!
Full Catering Service
Our catering staff are service industry experts and take pride in helping to make your wedding day special.  They work quietly and discretely to ensure your day runs smoothly.  We offer full setup and pack down so you don't have to worry about a thing. 
Bay Island Weddings
We also provide our wedding catering services on the surrounding Moreton Bay islands of:
Coochiemudlo Island
Macleay Island
Russell Island
Lamb Island  
These islands offer a tranquil beach wedding setting with stunning backdrops and beautiful sandy beaches.
    For all Bookings and Enquiries: